* Depth of planting
There are 4 rubber depth wheels mounted under the planter chassis, to accurately maintain the seedling planting depth
* Total seedling Control
The whole concept of the design from pickers through to coulter is one of total seedling control. Every mechanical section, from the tray to the delivery coulter, holds the module so it is totally under the planter's robotic control. This contributes greatly to the speed, spacing accuracy and ground positioning of the seedlings
MINIMAL SERVICE AND MAINTENANCE COSTS
The major drive and control components are from MITSUBISHI Industrial Automation Systems Division . A market leading supplier with a superb reputation for high quality, reliable components. Pearson are offering an 3-year warranty, backed by Mitsubishi who have a Worldwide network. All parts are high quality and durable with precision machining for a trouble free and long working life.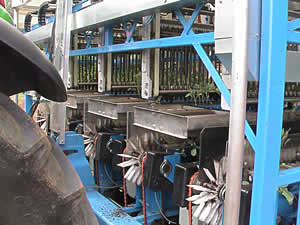 Index Flights and Drives
* No lubrication
Importantly, the main moving parts need no lubrication at all. This avoids build up or entrapment of dust and any other material; all of which can be removed by regular blow down using the compressed air facility provided.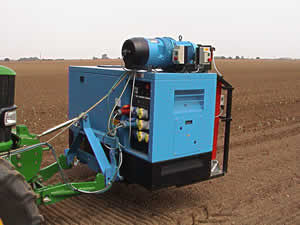 Front linkage mounted - Diesel engine generator and compressor
* Strong steel picking fingers
If bent during use, they can be quickly exchanged. Replacement is a simple, quick operation and damaged fingers can normally be re-positioned back into their usual shape for later use.
* Nylon Index fingers
Manufactured from high strength nylon and lifetime lubricated to assist in efficiently shedding soil, compost and roots. They clip-on for quick replacement.
* Daily Maintenance
Daily inspection and maintenance involves regular cleaning of key working parts. A compressed air gun and self-recoil line is provided. Removable or opening covers provide easy access.
* Modem.
A modem allows PEARSON to remotely monitor the performance of your machine and carry out diagnostics and remote programming if needed.
STANDARD TRAYS
The PEARSON AUTOPLANTER has been designed to use standard sizes of rigid plastic trays. Chances are your standard trays will fit thus avoiding the considerable investment in bespoke (specially designed) trays - potentially at a premium price when compared to standard trays